07 december 2017
SHOWROOM BELARUS FASHION WEEK HAS MOVED!
SHOWROOM Belarus Fashion Week – it is a creative space in the "Zamok" shopping mall, where December 21-25, 2017 will be placed the most innovative and promising designers of Belarus, which will delight all visitors with pleasant New-year discounts (up to 70%) and a festive atmosphere.
On the site of the showroom, you will find both famous brands and clothes of aspiring designers.
Among the participants: LimitedMinsk, Leorgofman, Bogdana Feoktistova, Davidova, Citydzen, Balunova, Tsokalenko, Sunitsa, Tarakanova, TON-IN-TON, Yana Kovich, Amberlook and many others!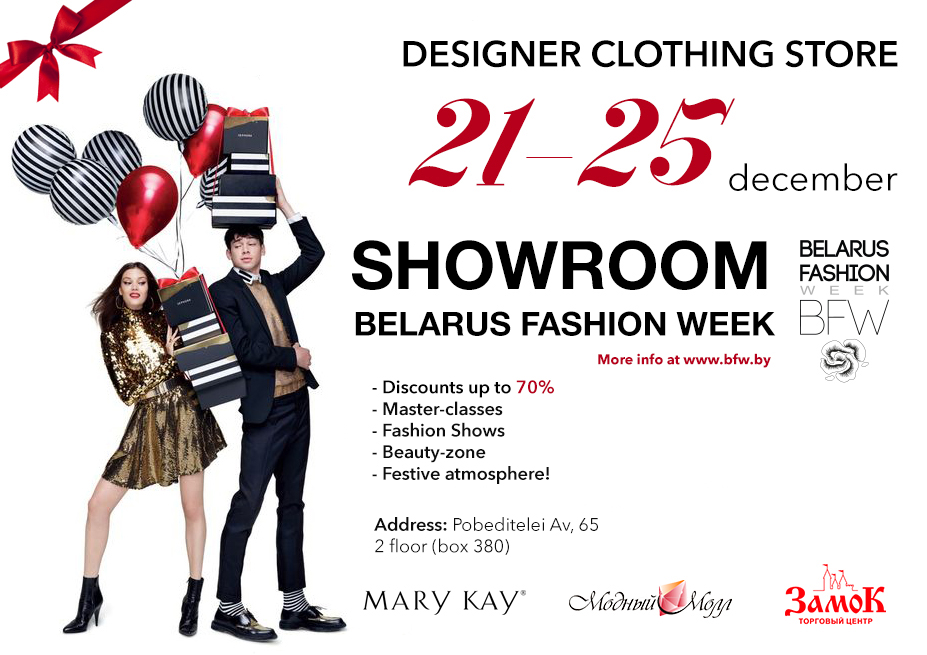 In addition to the sale of designer clothing, on the site of the showroom will work a beauty-corner of the Belarus Fashion Week official visagiste Mary Kay®, which will meet every guest of the SHOWROOM BFW to create fashion looks and to give individual advice on skin care too.
Traditionally, at the site of the SHOWROOM BFW will be held fashion shows (from 19:00 to 20:00 daily).
New collections, participants of the Fashion Week, workshops and unforgettable creative atmosphere — all this is the SHOWROOM Belarus Fashion Week!
We look forward to see you on the 2тd floor (box 308) of the "Zamok" shopping mall, Pobediteley av., 65.
Don't miss an opportunity to experience the New-year fashion atmosphere and to meet each of the designers personally!
We work December 21-25, 2017 from 10.00 to 22.00 only.
Track the news on social networks of the project!
Press-center Belarus Fashion Week, PR and communication agency "Open Podium"