27 october 2018
Belarus Fashion Week - only brand new collections!
Start of the new season of Belarus Fashion Week!
On November 7, Belarus Fashion Week will begin, which is the main professional event in the fashion industry of Belarus. We will note that only the new Spring-Summer collections 2019 from the leading fashion brands of the country and designer brands of clothes will be shown during the new edition!
The official makeup artist - Mary Kay®, the official partner - HUAWEI.
Partners: poshschool.by and Loreal professionnel
Belarus Fashion Week is a fashion event, which for eight years of its existence has become the most authoritative fashion forum of the country. The goal is to popularize and promote Belarusian manufacturers of designer clothes on the crowded fashion-market both in Belarus and abroad. This season we will see new collections: Ton-in-Ton, Natalia Korzh, Vita Gordievskaya, NELVA, Devore / Femme, Larisa Balunova, VOLHA, T. Efremova, Totti Swimwear, Nariman Grigoryan, Marco Rambaldi, Makey (accessories) .
Kids' Fashion Day in the framework of the Belarus Fashion Week will be held on November 7. Leading Belarusian manufacturers of children's clothes and accessories will present their new collections on the catwalk for the most demanding customers, who consider not only style, but also comfort. Designers will tell parents how to help their children create harmonious images for any occasion. This season, their collections will be presented by such brands and designers as Bell Bimbo, STILNYASHKA, MUGAKO, Marina and Sofia Bonifatyev, Danae, TM FRANTishka, Forever Young, Next, Mothercare, Falkovich, Said Shah, Aristocrat Kids, LEYA.ME, Veronika Kanashevich , DVDESIGN, Mini Angeli, Yulia Bezliudova, Yulia Kutepova and Tom Prokofiev.
Yanina Hancharova, chairperson of NGO "Belarus Fashion Council": "Belarus Fashion Week is an important event for all participants of the Belarusian fashion industry - private authors and fashion companies. Every six months, designers who are not afraid to show their new ideas to professionals demonstrate collections to a wide audience. Belarusian Fashion Week is more than a fashion event. This is a project that unites business, culture and socially significant topics. It does not matter whether it is a question of large fashion brands or small ones - each of them plays a role in the country's image, be it a "meeting" with a client on the Internet or, for example, at an international exhibition. Photo and video materials made during the Fashion Week are necessary for the media, stylists, bloggers to plan work in the new season, and, of course, designers' customers. "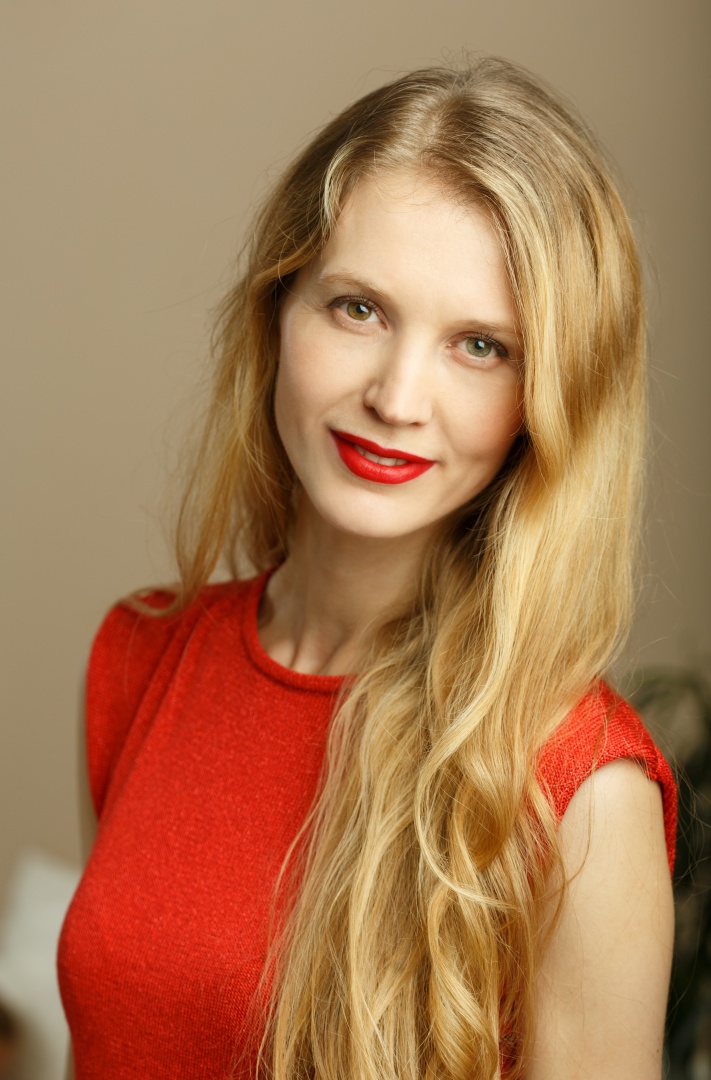 In the upcoming season, particular attention is paid to the social initiatives of the Belarus Fashion Council. For example, "New Opportunities" - the work of people with disabilities in creating clothing of clothing (BelAPDIiMI). "New Opportunities" is a fashion project designed to give people with disabilities a chance to express themselves in the fashion industry. NGO "Belarus Fashion Council" and public organization and the Belarusian Association for Assistance to Disabled Children and Young People with Disabilities will unite the efforts of designers and people with disabilities to create a collection of clothes that will be held during Belarus Fashion Week on November 8 at 16:00. For whom are these clothes and what inspires its creators and how much the things would cost, we have discussed at the press conference on July 26 at the multimedia press center Sputnik.
The show of the Italian designer Marco Rambaldi - supported by the Italian Embassy in Belarus - will be held with the participation of "age" models on November 8 at 17:00. The fashion show will be attended by both professional and aged models. The aesthetics of the brand Marco Rambaldi is built on the clash of two worlds: the conservative Italian bourgeoisie of the 70s and the rebellious culture of the 21st century. The designer compares the conflict of two generations with a coffee table on which fashionable glossy magazines from the 70s coexist with modern short-run punk editions. Age models participate in brand's shows and brand books.
In the framework of the Belarus Fashion Week Belarus Fashion Council presents brand new project - Ethical Fashion Show, which will present the collections of designers, members of Belarus Fashion Council, who preserves national peculiarities of production and creating products from natural materials. These are clothes that, in their modern interpretation, transmit information about our cultural heritage, traditions of the Belarusian craft, handcrafted values ​​and environmental friendliness of materials. Designers Polina Voronova and Larisa Stepanova (Historia Naturalis), Ekaterina Kabanova (POETKA), Natalya Kostroma-Andreyuk, Anastasia Vasyuchenko (KANVA), Natasha Dosko and Rita Lazarevich (Lock-cocoon) will take part in the show. The show will be held on November 9 at 17:00.
The fashion show of successful stylists of our country called SEE NOW & BUY NOW will be held supported by Belarus Fashion Council. The show provides an opportunity and a start for novice stylists in the field of fashion-industry and the possibility of cooperation with the PR-agency "Open Defile", as well as with the leading fashion companies in the country. See Now & Buy Now fashion show is a new look at the modern fashion. The show will be held on November 7 at 21.00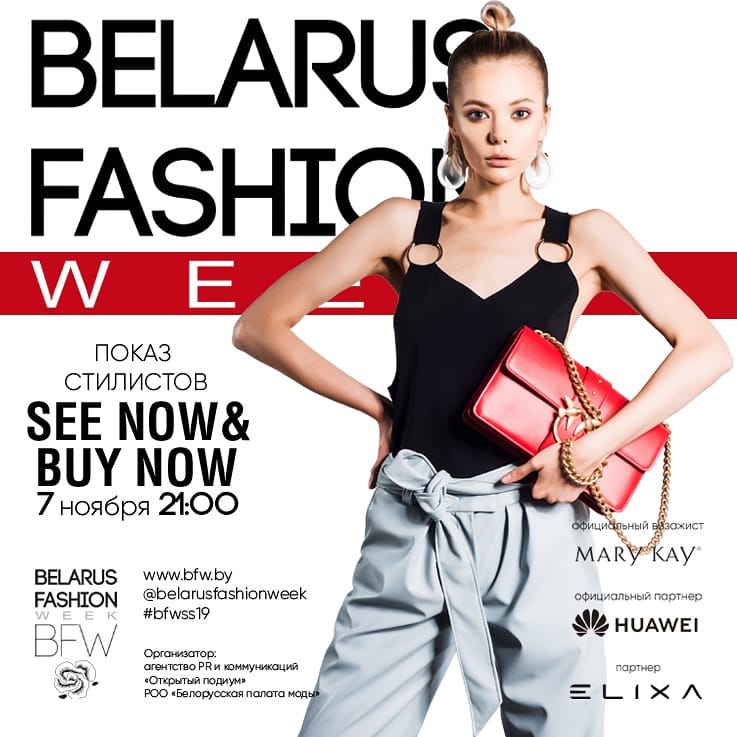 "Today we are surrounded by lots of offers from designers and brands that produce interesting, and most importantly, high-quality clothing. It can be difficult to understand, and even more so to make the right choice if you don't have a product in your wardrobe. Of course, it's easier to make a purchase when you see the perfect image the stylist has worked on and the buyer has a desire to buy in exactly this version, in which we see on the pages of the catalogues or in the showcase. A show of stylists will help buyers to assemble a ready-made image from Belarusian producers, abilitt to mix different brands and designers in the same way, "- said Yanina Hancharova, Chairperson of the NGO " Belarus Fashion Council", the head of Belarus Fashion Week.
Daily Fashion Talks by HUAWEI - a possibility to duscuss actual fashion topics with influencers: photograpehrs, directirs, designers, stilists. Spikers can share their experience in fashion sphere and will answer all of the questions.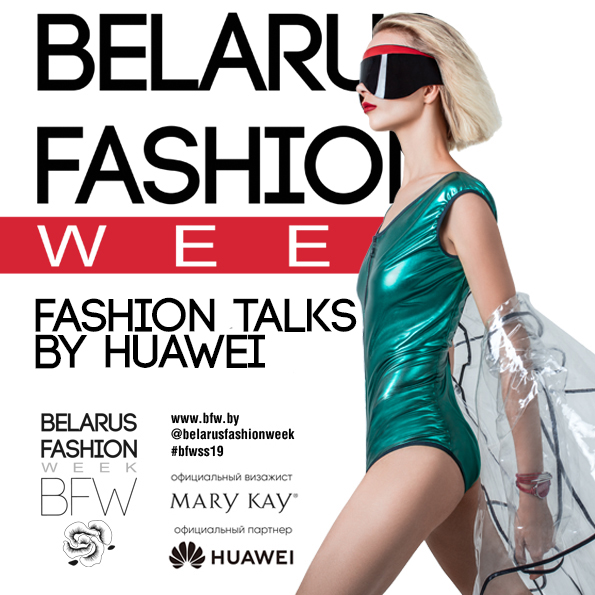 Online broadcasts of shows will be available at www.bfw.by. In addition, Fashion Week shows will be broadcasted on international TV channels.
ACCREDITATION ON WEBSITE WWW.BFW.BY
Follow us in social networks: VK Belarus Fashion Week
Facebook Belarus Fashion Week
Instagram @belarusfashionweek
The organizers are the PR and Communications Agency Open Defile, NGO "Belarus Fashion Council".
Venue: National Exhibition Center "BelExpo"
Media partners: Women's Magazine, ICON, Cult, Large, lady.tut.by, Interfax.by, City of Women, The Village.me, Modalive.by, Relax.by, ONT TV Channel