05 september 2018
START OF THE NEW SEASON OF BELARUS FASHION WEEK
An image photoshoot for Belarus Fashion Week spring-summer '19 season took place. It means that work at the 17th edition of the main event of the Belarusian fashion has begun!
Inspired by the Belarusian nature, beauty and harmony of the flower of the water lily of the yellow, swaying on the river surface in all corners of our country, an image was created. It combines Belarusian traditions and modern design. The designer Svetlana Petushkova worked on the creation of a costume, and the designer Maria Skrabovskaya was responsible for the production of headwear, which embodies the flowers of the water lily gathered together. Mary Kay is the official make-up artist of Belarus Fashion Week SS 19 conducted by the make-up artist Alexander Kirinyuk, who also worked on make-up for the photo shoot.
The official partner of the season is Huawei again. Through photos taken on the flagships of Huawei P20 and Huawei P20 Pro you can #seemore bright moments on the official accounts of the Fashion Week: event guests, celebrities, street-style images and models from the podium, as well as details from backstage.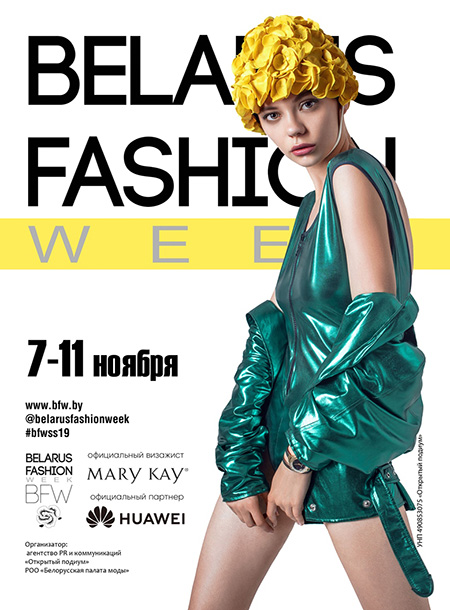 From 7 to 11 November 2018, collections of the most successful and ambitious representatives of the fashion industry of the country will be presented in Minsk in the National Exhibition Center "BelEXPO": Nickolia Morozov, Nelva, Favorini, ton-in-ton, Lakbi, Condra Deluxe, Natalia Korzh, Devur, Larisa Balunova, emse, Tarakanova, Totti Swimwear, Kseniya Romanova, T. Efremova and many others. Thanks to the fact that Belarus Fashion Week has been developing relations with foreign colleagues for many years, we have the opportunity to present collections of such men's clothing brands as Male Me (Poland), Ivan Man (Germany) and others in Minsk, and also to acquaint foreign mass media with modern Belarusian fashion.
On November 11, children's fashion shows called KIDS 'FASHION DAYS BFW and the social project "New Opportunities" organized by Belarus Fashion Council and the Belarusian Association of Aid to Disabled Children and Young People with Disabilities take place.
The idea of the photo shoot: PR and communications agency "Open Podium": Yanina Goncharova, Anna Kozlova, Matvei Kesheshyan, Nastya Ermak. Photographer: Valeriya Galynkina.
Press center BFW