24 october 2019
KIDS' FASHION DAYS BELARUS FASHION WEEK: MAKAVKA, VIQ&VICKY, MIRDADA, LEYA. ME, KUDRINA, BY VEL, VERSHINA, BAYBARDINA, DOLCE VITA, ANKO AND FALCOVICH, PANDA KIDS, M.Y.STUDIO.
The 19th season of Belarus Fashion Week ended with children's shows. Kids 'Fashion Days BFW catwalk presented such brands as Makavka, Viq & Vicky, Mirdada, Leya, Me, Kudrina, By Vel, Vershina, Baybardina, Dolce Vita, Anko And Falcovich, Panda Kids, M.Y. Studio. Representatives of the modeling agencies ICY MODELS and DOLCE VITA, the model school of Oksana Zagortseva and MADEMOISELLE ADR'I, the KIDS PODIUM fashion theater, KORONA MODELS MANEGMANT, M.Y.STUDIO, MODEL AGENCY ARTMODA took part in the shows.
MAKAVKA brand designer Ekaterina Makaveeva continued to experiment and introduced the new Hi School collection. The collection reflects trends close to teenagers. Through the prism of individuality she showed how a generation of modern children looks like, thinks and their way of living, reflected their attitude to modern imposed stereotypes and attitudes. The collection is made of natural fabrics with the implementation of the latest trends in cut and style. Masks, Gacha life, panama hats, voodoo doll, massive shoes, hats with ears, ruffles and shuttlecocks are integral parts of looks of the show. The models are students of the KIDS 'PODIUM fashion theater.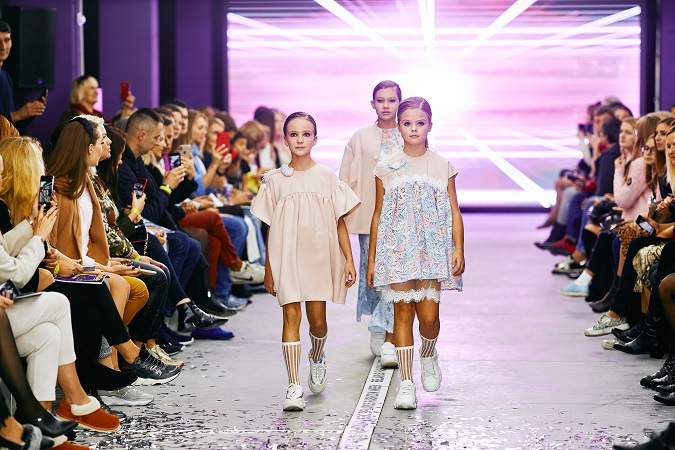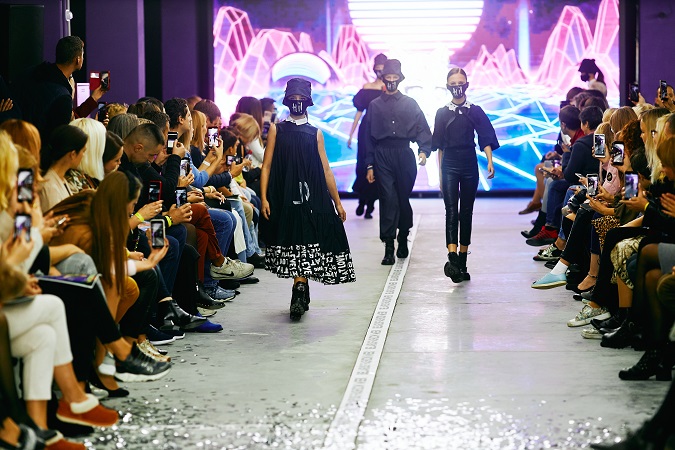 The French brand VIQ & VICKY follows modern trends in fashion and together with models from the KIDS PODIUM fashion theater presented its collection at Kids Fashion Days. On the catwalk the boys wore formal suits, white shirts with butterflies around their necks, the girls in turn showed evening dresses with elegant cut.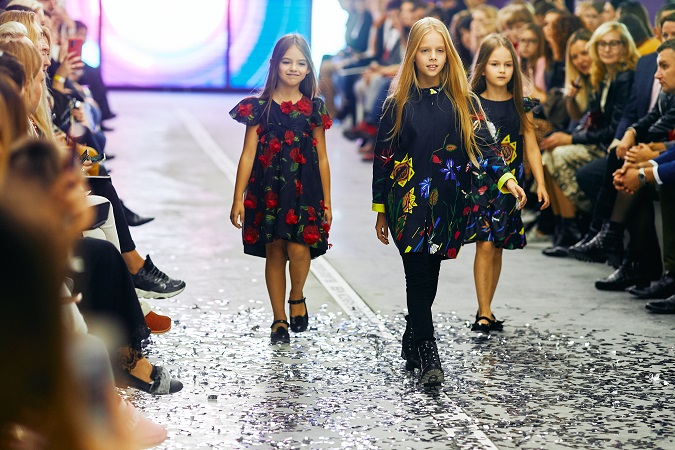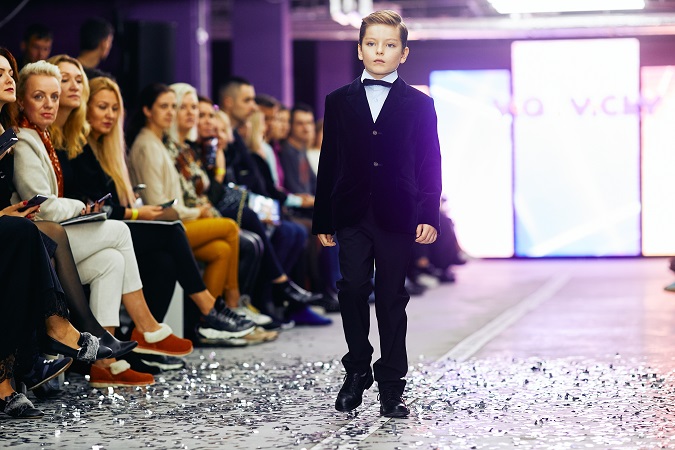 Designer Ekaterina Bliznyuk presented a new collection of the Belarusian modern clothes brand for children and teens MIRDADA "Puppet Summer". World famous and shocking L.O.L. inspired her to create bright spring-summer girlish images with pictures of these dolls. Here we can see rock, glamor, sport, and unstoppable fun. The show was truly bright and models were fresh and stylish. The professionalism of the KIDS PODIUM fashion theater models and friendly team that worked on creating the collection and completed images made the show an event to remember.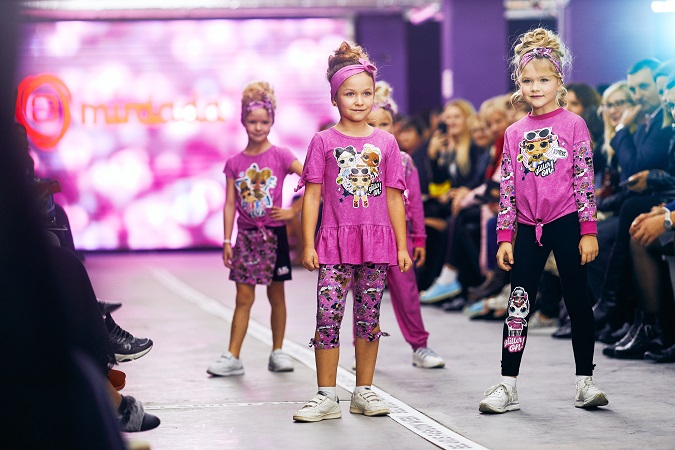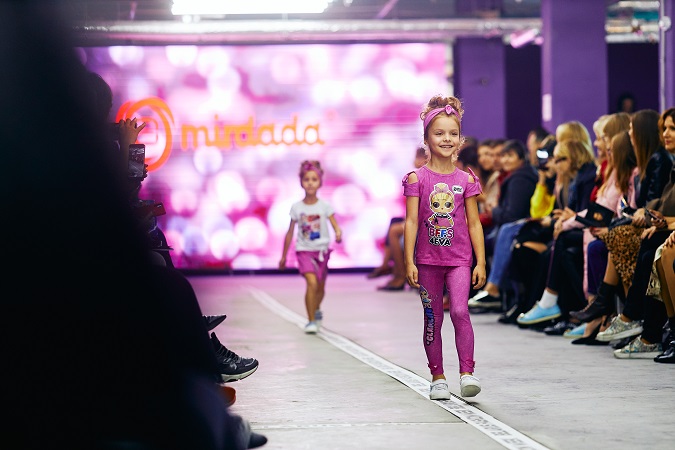 LEYA brand made a bright autumn collection "Monsters garden" at Kids Fashion Days. ME Rich colors, floral prints, comfortable styles, natural fabrics, fashionable silhouettes and their own characters - a family of friendly monsters - all this makes this collection warm, fun and cozy. Looks were presented by the students from the model school MADEMOISELLE ADR'I.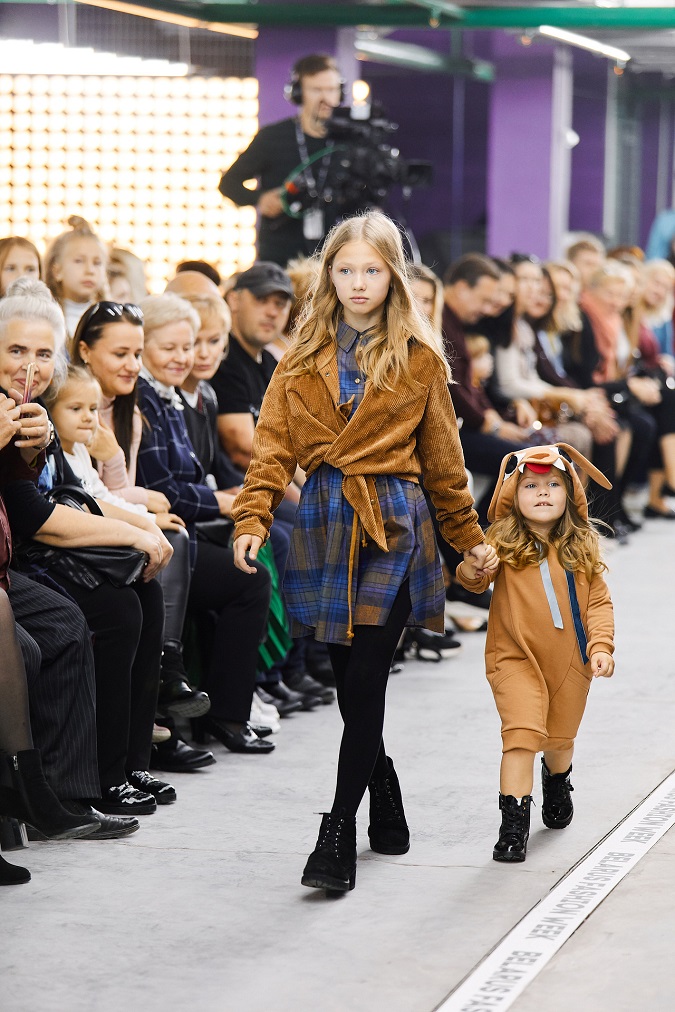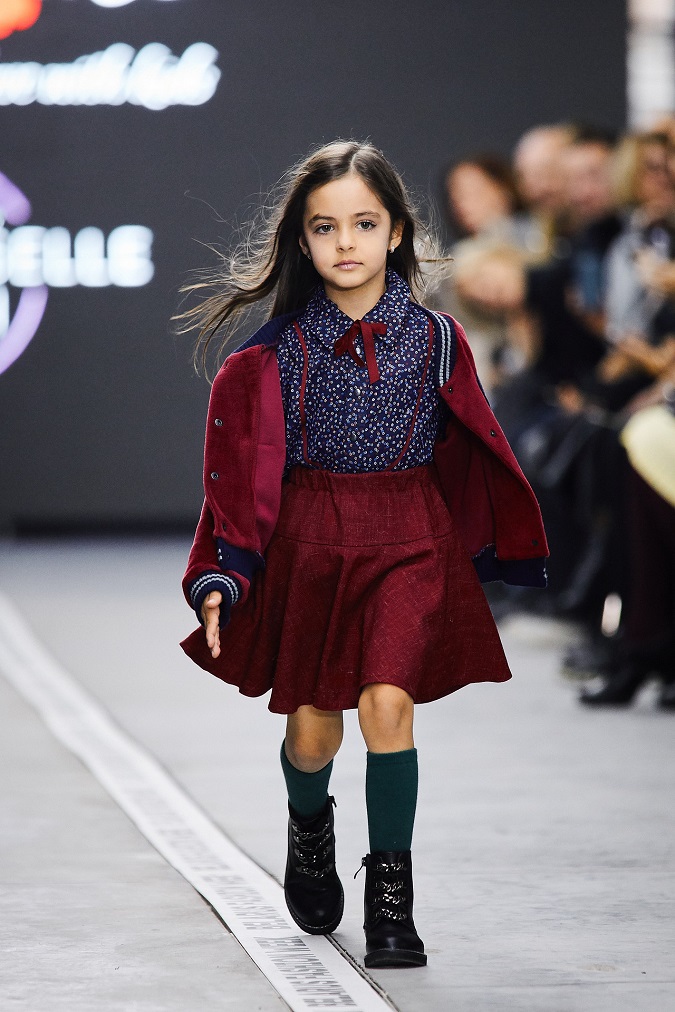 All children can't wait to become adults, but adults often try to return to this childhood somehow. They always have their own opinion and express it, especially in adult things. That's why Natalia Kudrina in her new collection decided to speak the language of adolescents. The KUDRINA brand once again proves that it is through clothes, no matter what else, that everyone is able to express their views, character, style and place in life. Children behave honestly, boldly, challenging. And they want to be heard! To create a new collection designer used fabrics of natural fiber, bright accessories, plastic, ribbons, appliques, machine embroidery, acrylic paints. Students from the modeling agency and school for children "MADEMOISELLE ADR`I" took part in the show.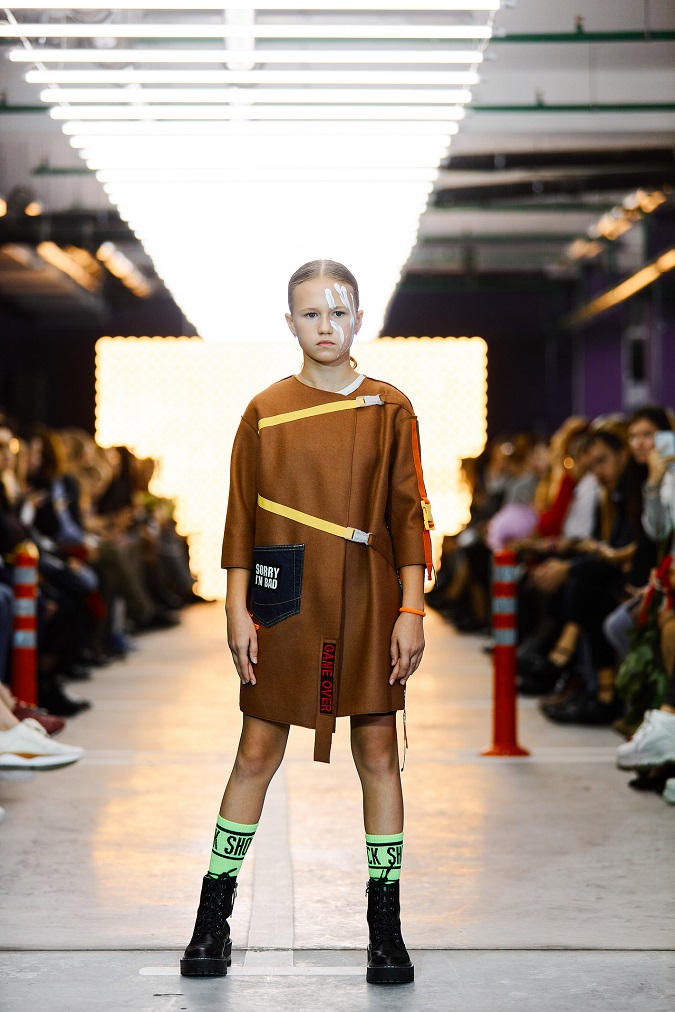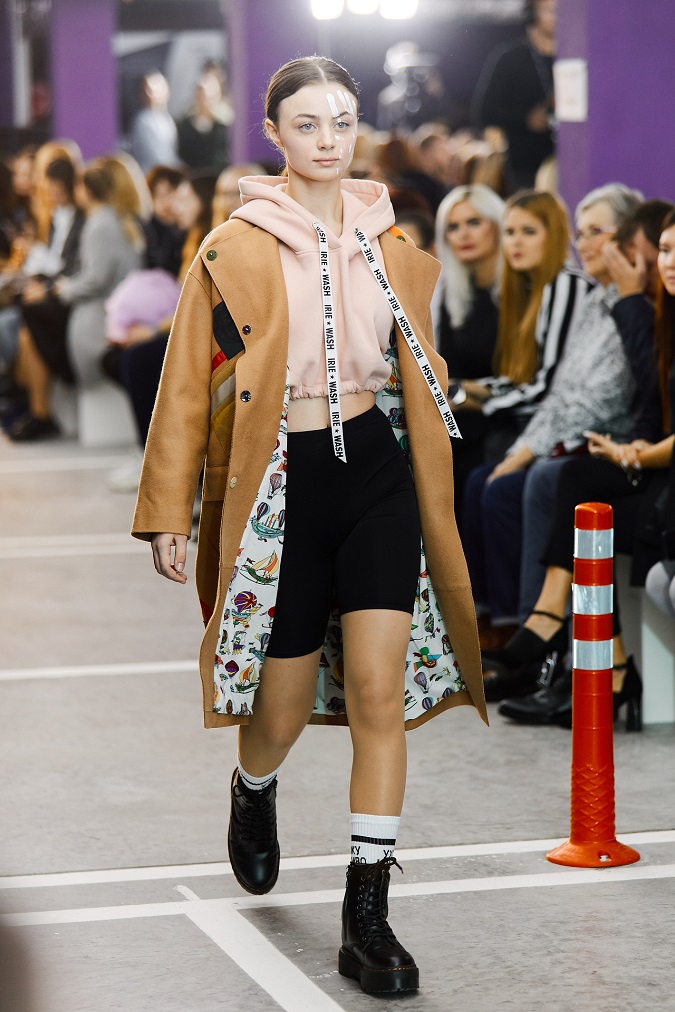 The BY VEL brand made the capsule collection "The Girl with Character". Unusual silhouette, looks to show how impudent girl becomes a princess, retaining her character and spontaneity. This is a completely new look at children's fashion, which will appeal to those who always want to stand out. "With character" that's exactly what you can say about the collection. Designers used the most favorite and fashionable colors of the season in the collection, while maintaining a balance between the tastes of mothers and children. The show became an incredible international collaboration, in which the Ukrainian team of designers, the Belarusian modeling agency KORONA and the agency Mone Models from Moldova took part. Needed to mention that this is the first project at Kids´ Fashion Days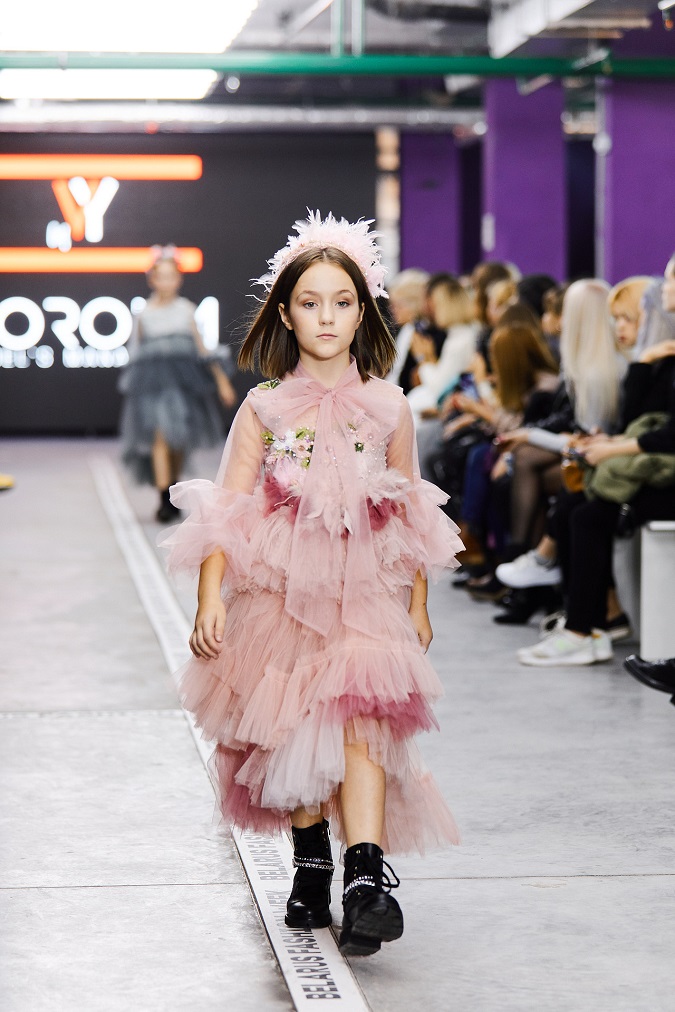 The "Vozrozhdenie" collection was created by the designers from VershinA which combines most incompatible materials: oilcloth, linen and flowers. Each set is a piece modern fashion, in which coarse linen is combined, where the tenderness of flowers breaks through a transparent oilcloth. Linen fabric in different colors and shades helps to create durable, environmentally friendly clothes. Adding oilcloths with fashion illustrations inside, flowers, fabric elements combine it all into an exclusive approach. These clothes are made as if of fresh flowers. VershinA fashion theater model took part in a runway.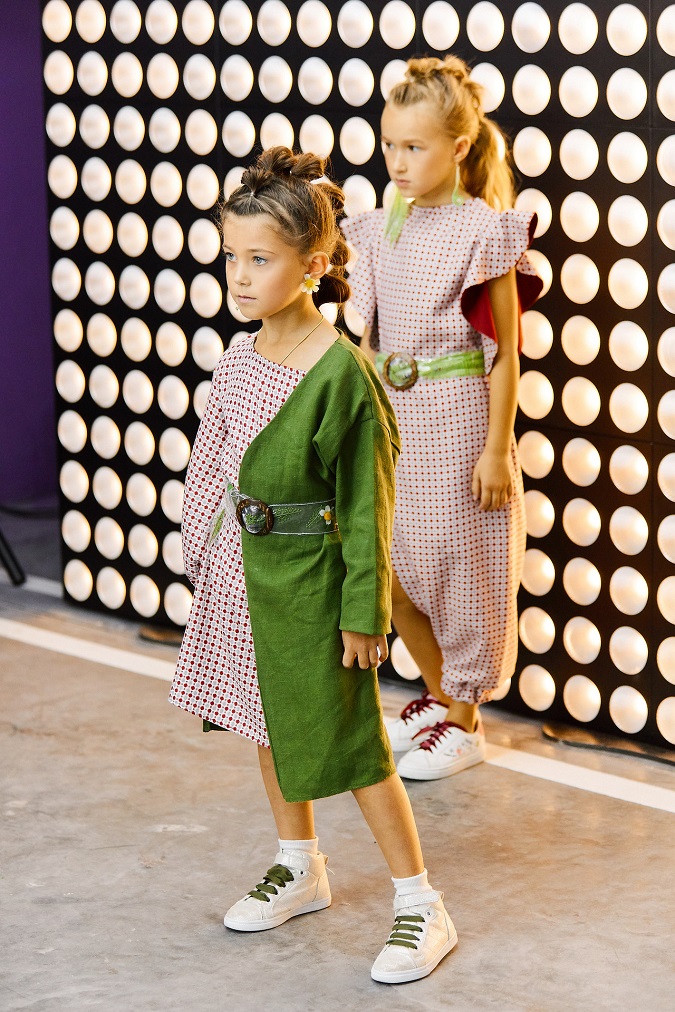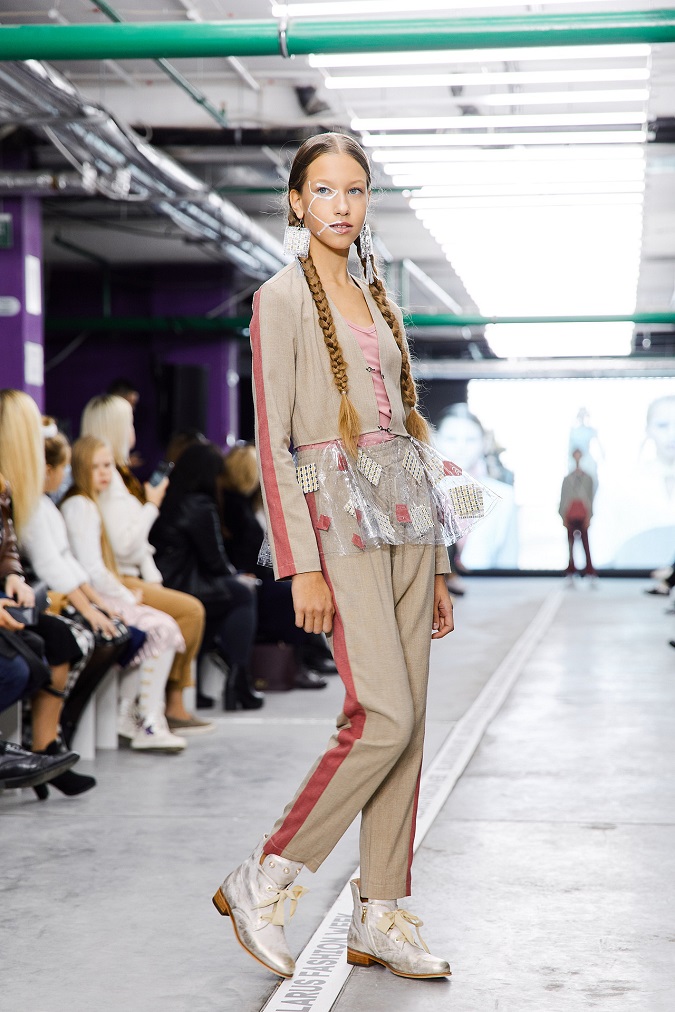 BAYBARDINA brand at Kids Fashion Days presented this year a nameless collection because the collection speaks for itself. It was a wonderful show from designer Elena Baybardina and the head of the children's agency ARTMODA. Juicy red color in combination with brilliant silver looked magical. Bright and memorable images of models harmonized with each other due to professionals. Makeup was one of the integral parts of the collection: soft pink hearts on the cheeks of young models like a blush look as an unusual solution that looks fresh and cute.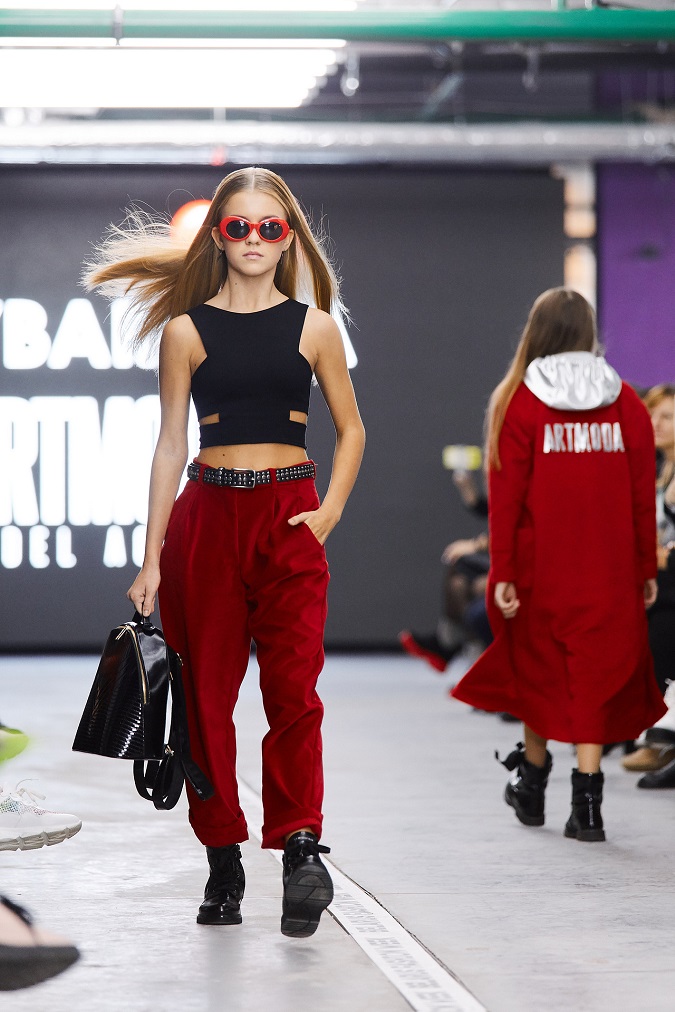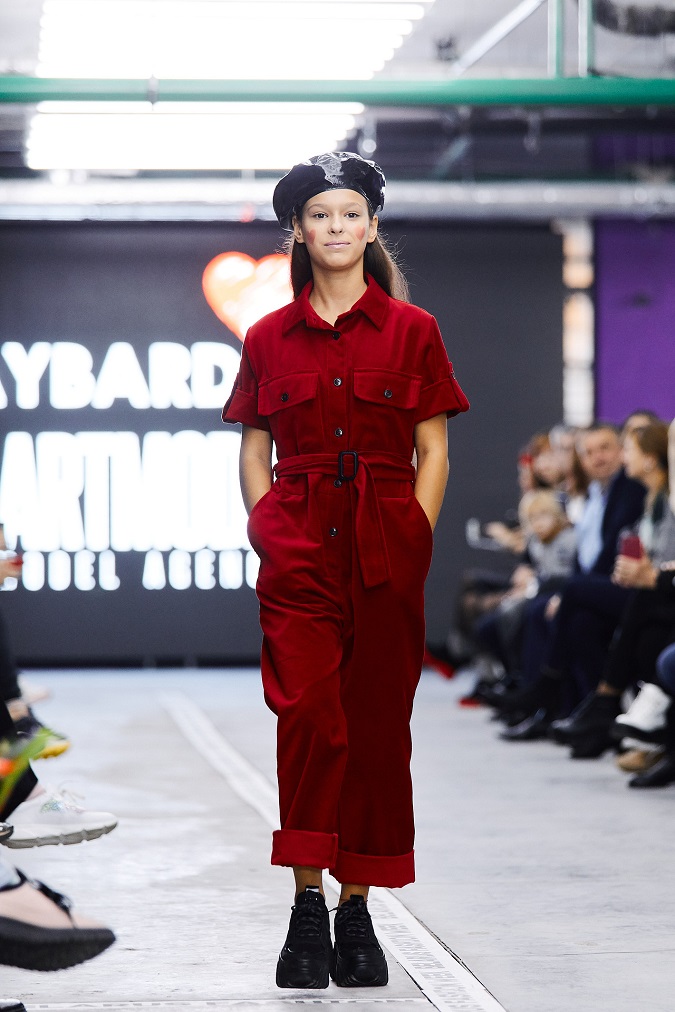 The Riccardo collection was presented by the DOLCE VITA brand. Designer Marina Uzhastova presented stylish and elegant outfits of various colors and patterns. Especially, dresses will appeal to children who cannot imagine their life without creativity. They will look unique at important events in such dresses. Touching and interesting images inspire and charge with a fabulous mood. DOLCE VITA fashion house models presented the outfits.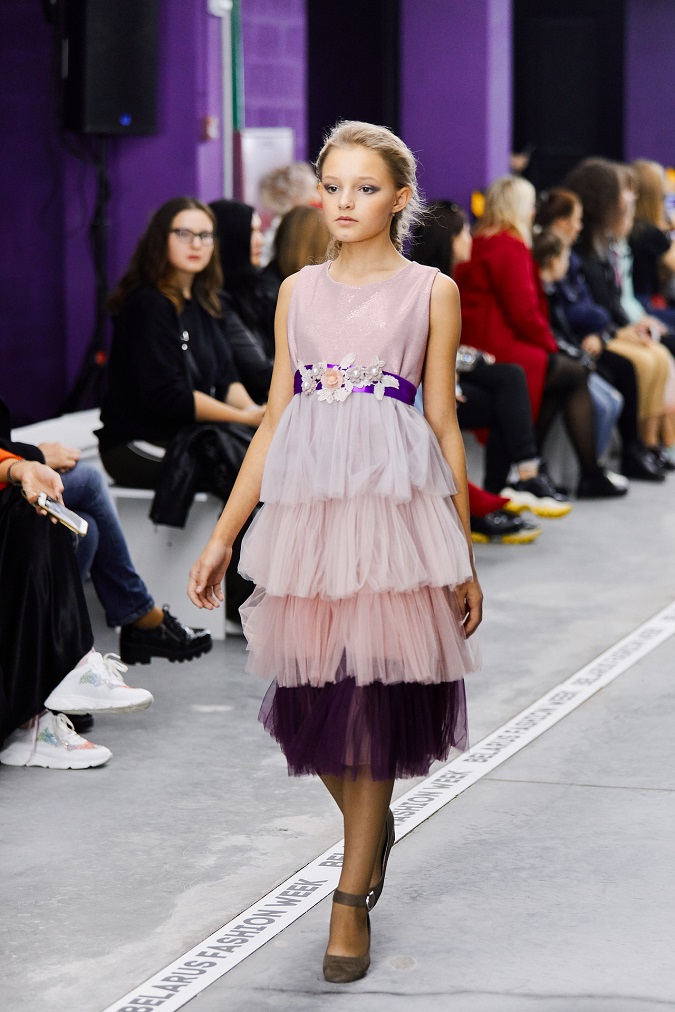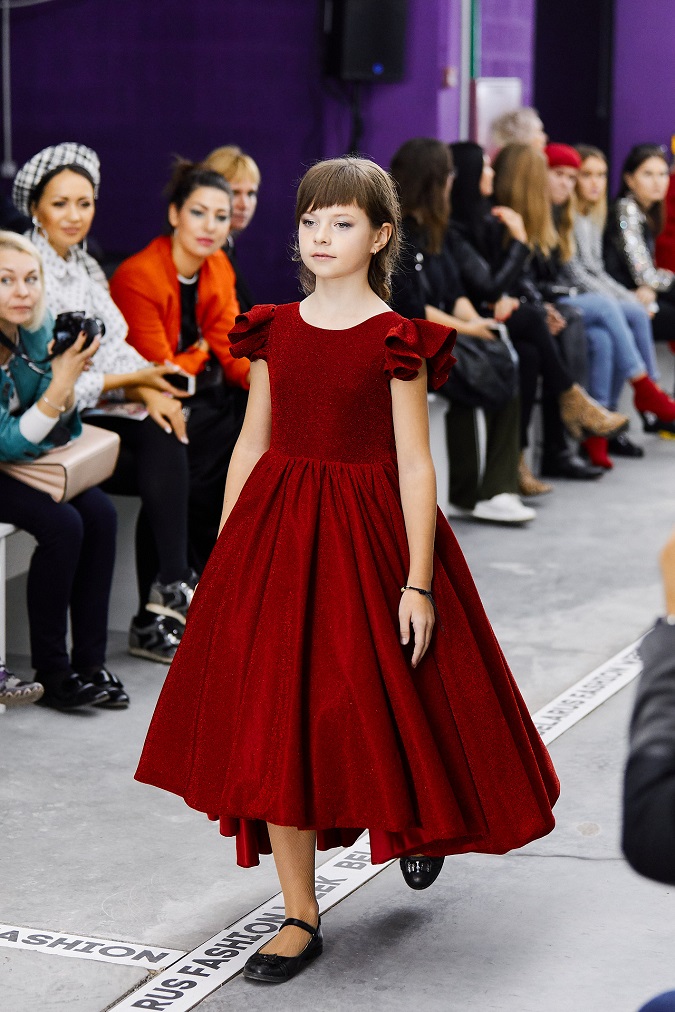 ANKO AND FALCOVICH presented a new collection "Just Me" at Kids Fashion Days. Designers Anastasia Falkovich and Anna Pytlyak preferred monophonic colors, calm shades and elegant cut. Models were students of the model school of Oksana Zagortseva. The guest stars of the show were Honored Artist of the Republic of Belarus Victoria Aleshko and TV presenter of the Panorama and Live programs Polina Shuba.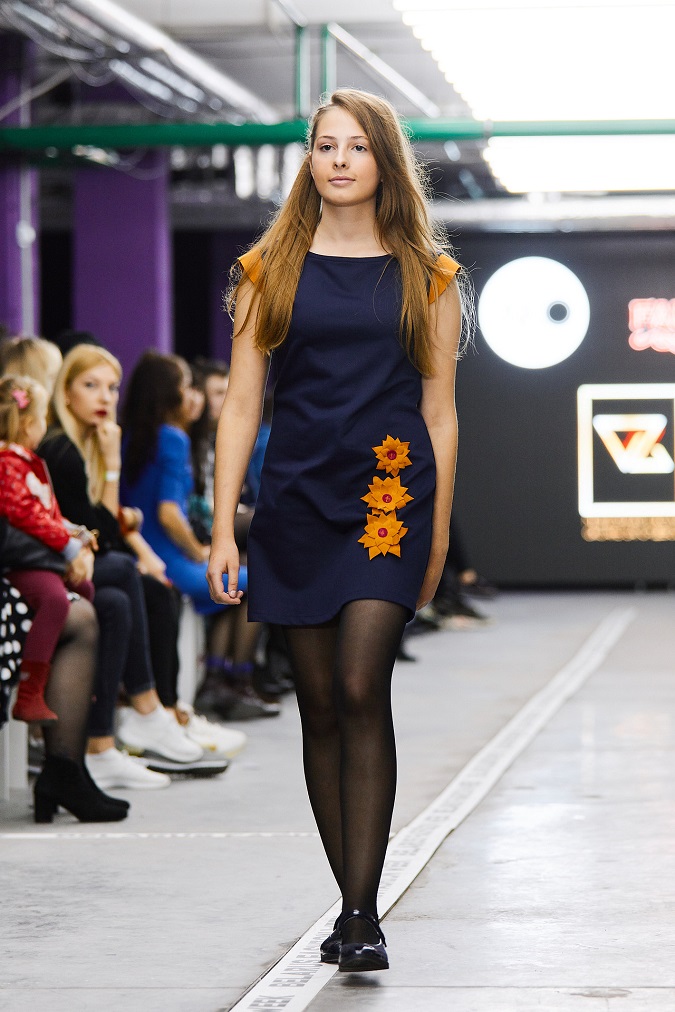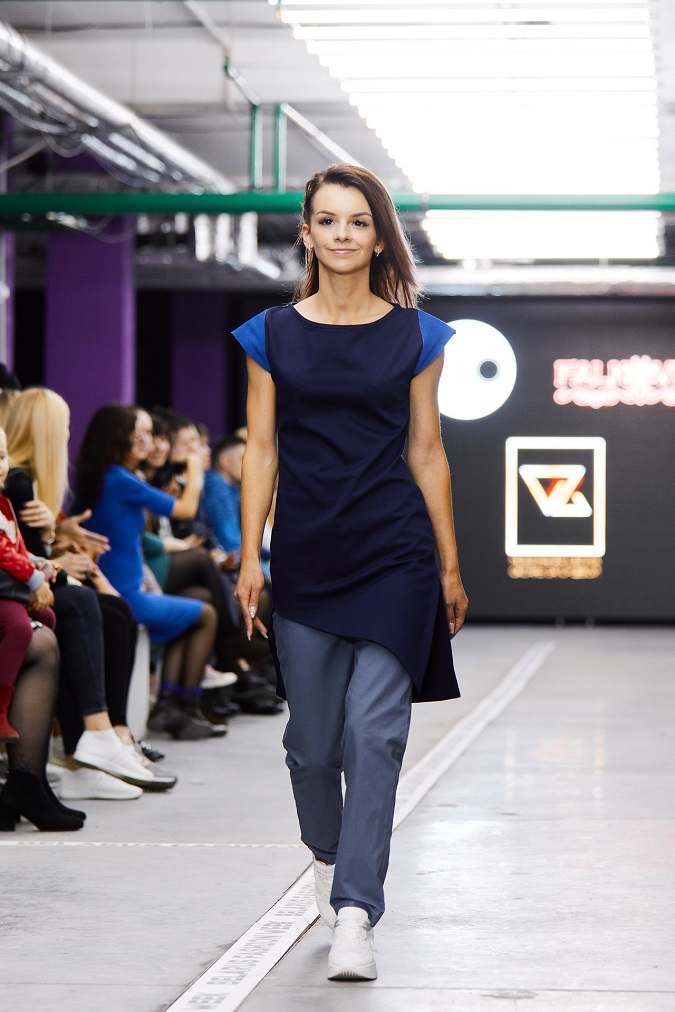 The Belarusian modern children and teenage clothes brand PANDA KIDS presented a collection with products of high quality fabrics to feel comfortable in any circumstances and at any weather. Designers presuppose the trends for a couple of years in advance and can thoroughly design future collections taking into account wishes of young customers. The collection was presented by the models of a successful and dynamically developing modeling agency ICY MODELS, which is a close-knit and creative team of professionals with more than 5 years of experience in the fashion industry.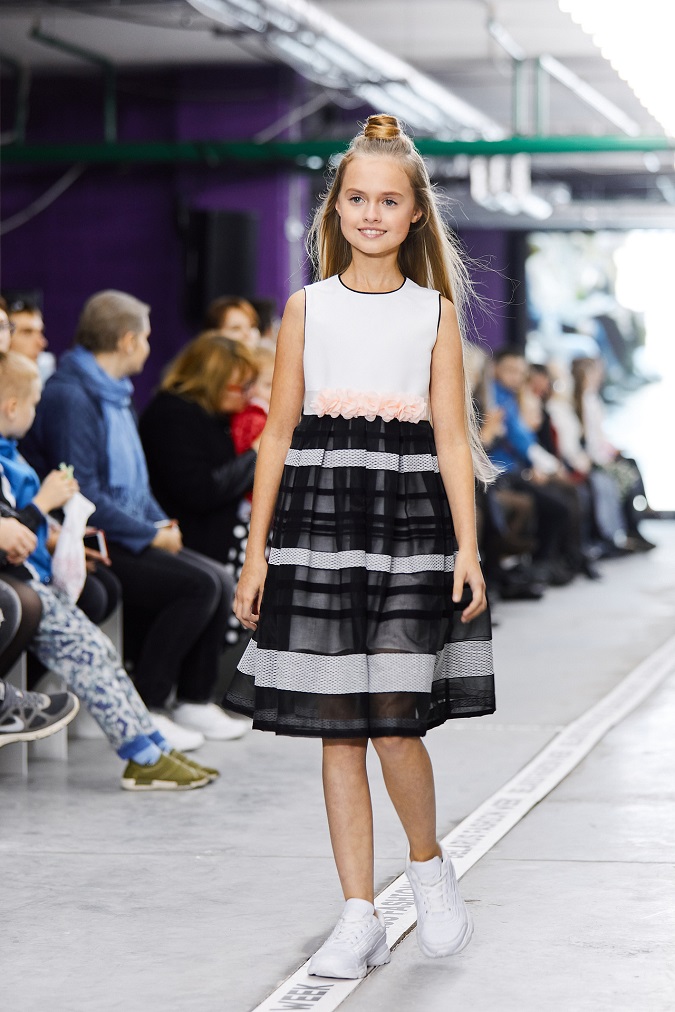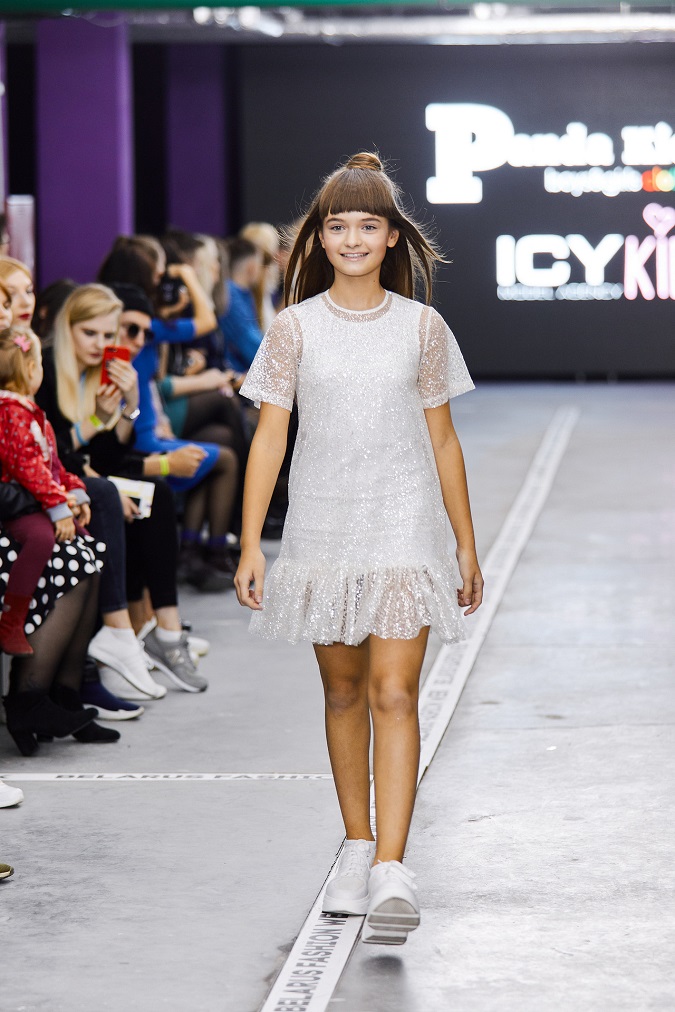 The Nadezhda Kuznetsova's "Cuban Lime" collection is designed for children and teens and in accordance with fashion trends for the spring-summer 2020 season. It is dominated by contrasting combinations of pistachio, black, turquoise and other interesting color combinations. All presented sets are without prints are decorated with an unusual constructive form, contrasting stitching along seams, high-quality stainless steel fittings: eyelets and buttons, blocks and metal fasteners. Backs in jackets look unusual: they are asymmetric, in a different color with flying coquette and pockets. The products in the collection fit together and are interchangeable. The kits are complemented by accessories, bags and jeans hats, which were presented on the catwalk by the models of the fashion and style center M.Y.STUDIO.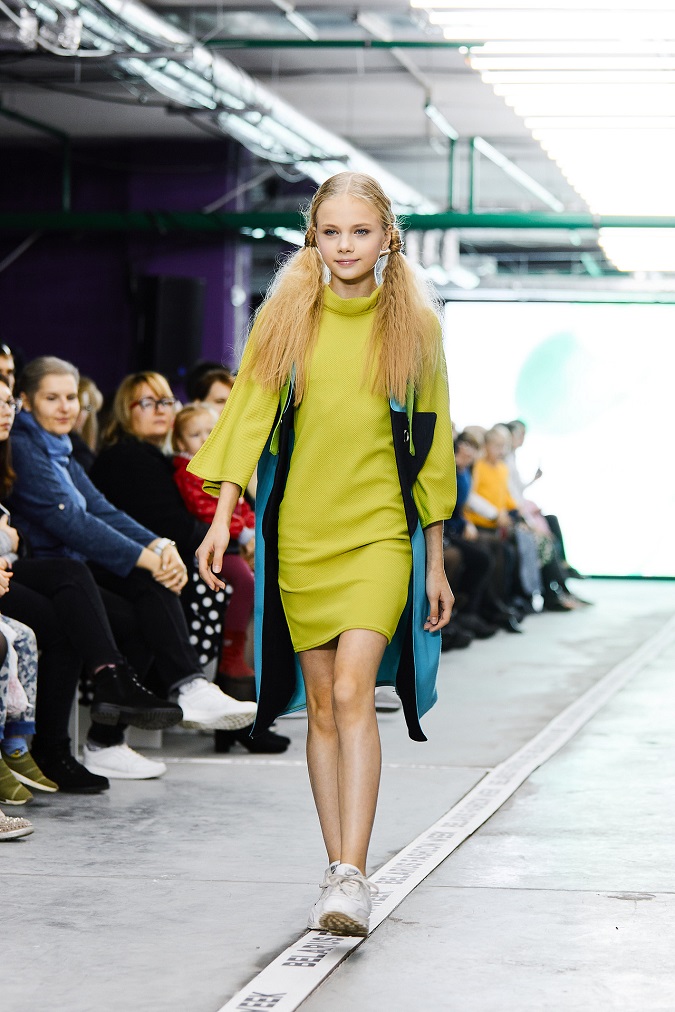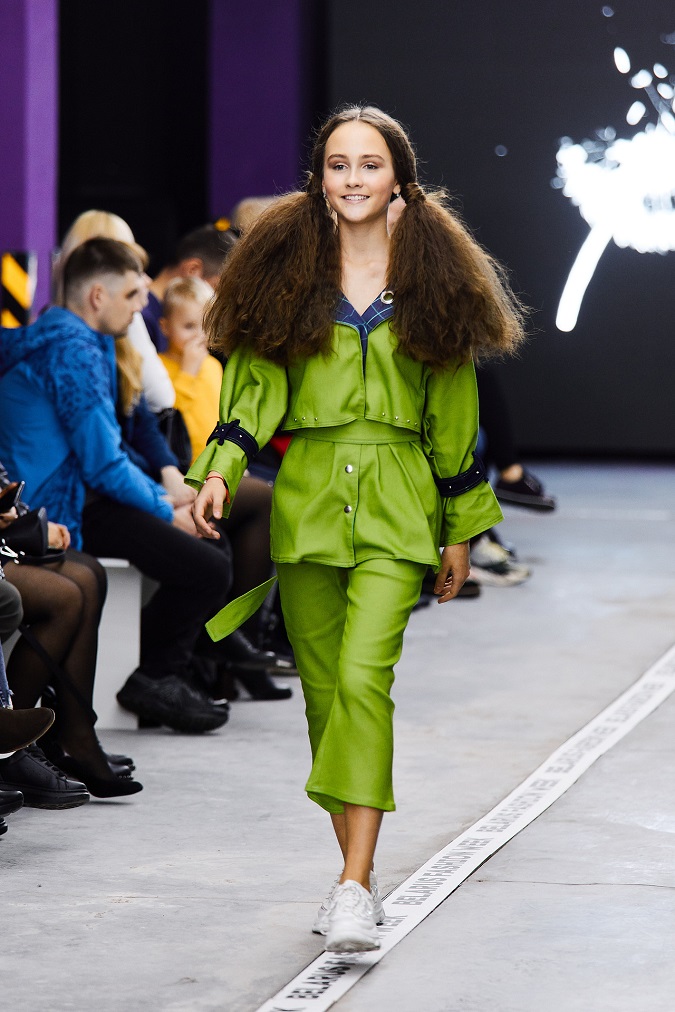 The organizer of the event is the Belarusian Fashion Chamber, an open podium PR and communications agency.
Follow the news on our website bfw.by and on social networks @kidsfashiondays_bfw.
Official Partners: Mary Kay® and Dana Holdings
Partners: Huawei, Tresemme, Stilisto, Galanteya, Get Clean, Friday Taxi, Willing Hotel
Ticket operator: Bezkassira.by
Kids' Fashion Days media partners: the first glossy magazine for children in Belarus "DOMIK", the Internet portal "mamochki.by", Family.by, MamaGo, the program Media & Stars TV3 channel, the magazine "Bambini", an Internet portal for those who love and understand parents Prodetok.by
Information partners: TV 3 TV channels, ONT TV channel; Komsomolskaya Pravda, Relax.by, Interfax, modalive.by, Arguments and Facts, Kult, City of Women, Women's Magazine, On Air, ICON, ES, Radius FM, Citydog.by, Salon 375, PROfashion.