Harydavets&Efremova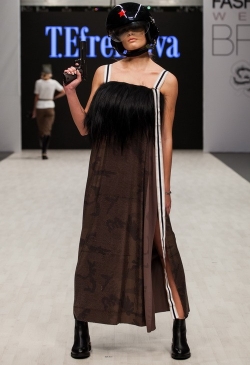 Harydavets&Efremova
Designers: Goridovets Tamara, Efremova Tatsina
Brend conception: clothing for self-confident woman with active style of life, which refers to fashion and to her look with irony.
The presentation of a new spring-summer 2017 collection will be on the 5 th November throughout Belarus Fashion Week by the designer Tatsiana Efremova. «She was ready to meet the situation head-on! Self-confident girl. This world is for her! She is undefeated even if we do not take into account her weakness and vulnerability. And these flimsy dresses give a boost and call never give up, only if under pressure of feelings. The military uniform details of different times infuse confidence only the runway and in fashion. You can wear casually tumbled coat with silk dress or jacket with pants and summer coat made of flax and python and you are ahead of the game!!!» Show producer is Anna Teselkina
Show partners: shoes «Bravo», airsoft shop pentagon, professional hair cosmetics BERRYWELL, hand-made chocolate «Marie T», PSUE «Decomir» is an official representative of German-Russian paint related company DERUFA.