NATALIA GAIDARGY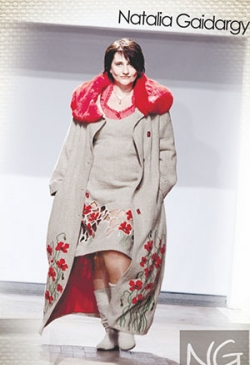 NATALIA GAIDARGY
ABOUT THE COLLECTION
Collection called City is made of flax of Orsha Linen Mill. Extravagant looks of a modern city for people of any age and shape, a combination of Slavic traditions, different styles and ways of current interpretations, hand-made embroidery and author's drawings fill the collection with sun energy and love.
ABOUT THE BRAND
Natalia Gaidargy's collection is a new image of eco-clothing – women's, men's and kids' apparel made of natural flax. Autumn coats and jackets, sheepskin coats and unique winter outwear with a hand-made embroidery and fur trimming. More than 3000 models from a summer collection, author-made shoes for any outfit. All the collection are pret-a-porter ones.
Natalia Gaidargy is a member of International Union of Artists, fashion academician, a laureate of the Order of Master of Beauty. She is awarded the quality sign Gold Syrin, medals for professionalism and business reputation. Natalia participates in varied fashion weeks, her fashion shows were held with support of UN and UNESCO. In 2010 she was awarded grand-prix by Pierre Cardin for a collection "Instincts".