DANNY REINKE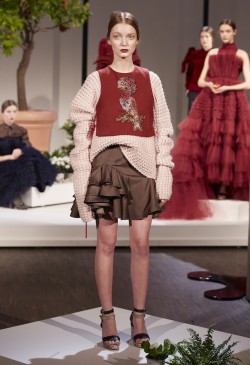 DANNY REINKE
'A BREATH OF NIHILISM'
Danny Reinke first presented his spring/summer '18 collection at Mercedes-Benz Fashion Week in Berlin.
Constructive doubts instead of blind belief influenced his new collection.
A mix of fashion show and installation enchanted the audience and drew attention to the playful and romantic collection, where femininity meets elegance. Classic cutting and pastel tones used here to bring comfort and clarity.
Stylish femininity delivered by the spring/summer '18 collection made of varied fabrics like tulle, silk, brocade, wool and cotton. It consists of fashionable trousers as well as fine evening dresses. Attention to details, which pays Danny Reinke to each collection adds very personal feature reflected by appliques and stickers.
ABOUT
In 2009 Danny Reinke began a dual study program for fashion designers and women's tailor at the Fahmoda Academy of Fashion and Design in Hanover. In 2012 he graduated successfully having completed his apprenticeship exam. As part of a semester abroad, he also attended the Kraków Schools of Art and Fashion Design.
In 2013, Reinke completed his studies at the FahModa Academy and worked in the summer of the same year during an internship with Franziska Michael on the collection of the label, which was presented at Mercedes-Benz Fashion Week Berlin.
In October 2013 Danny Reinke began a six-month internship with Dawid Tomaszewski and developed with him the winter collection, which was also presented at Mercedes-Benz Fashion Week Berlin.
In 2011 Danny Reinke won Innovation Award "Golden Charlie" at Leipzig Opera Ball and the European Fashion Award "Fash 2014".
In winter of 2014/ 2015 Danny Reinke worked in Hamburg for the company CLOSED in the menswear area as an assistant owner.
Since April 2016 he has been teaching fashion design at the FahModa Academy for Fashion and Design.
In addition, Danny Reinke presented his Let's get Lost collection at Vancouver Fashion Week and his Secret Desire collection at Mercedes-Benz Fashion Week Berlin.
Contacts
Press-contacts:
Kristin Lyngner // Public Relations
CLY COMMUNICATION GMBH
Phone: +49 (30) 1208440-11
E-mail: kl@cl-y.com