VESNALETTO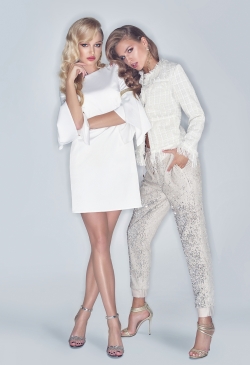 VESNALETTO
The debut of the brand Vesnaletto took place at Belarus Fashion Week with spring-summer '18 collection.
Vesnaletto symbolizes timeless and elegant fashion.
Svetlana Malich, the designer of the brand, put together all the latest looks of a modern woman adding Gatsby style to them. Feminine outfits that accentuate lines attractively are in the center of attention. The collection is filled with lyric poetry and tenderness while sequins, golden textures and glamourous accents are responsible for general brightness. Lightness, love and spring awakening became the primary sources of inspiration. As for the colours, ecru, pink cameo and serenity are the main ones.
This collection is made for women who identify themselves with luxury and individual style. Garments for any occasion are represented in the collection. With respect to the bohemian theme, primary materials are French veil, grand lace and atlas. Spring-summer '18 collection is a status person's wardrobe – the timeless duet of black-and-white, fishnet trousers, lace bodices and light blouses, tops and shorts. Capsule lace dresses of blue steel colour are worth considering into detail. Gold embellishment, spectacular lace trimming and silver sparkles are the general elements of the spring-summer line. Contradiction and mixture of classics and modern trends are the general idea of the collection.
Contacts
Sales box@vesnaletto.com
Press
box@vesnaletto.com