DEVITA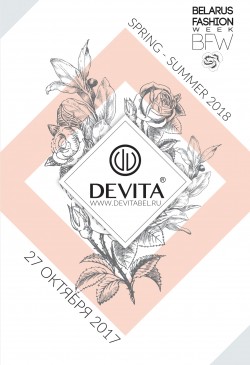 DEVITA
DeVita is a womenswear brand, a reliable partner and excellent manufacturer established in 2012 when a small team of young enthusiasts decided to produce fashionable and smart clothes. Today the company is a stable and developing manufacture, which is famous for its distinctive style in Belarus and abroad.
Our garments are very popular with CIS countries. Due to interweaving new trends and modern technologies our clothing is no worse than world leading manufactures.
The trademark DeVita mixes simplicity and elegance, cutting aesthetic and tailoring neatness. Design of casual costumes, evening dresses, sportswear considers the latest trend in fashion industry.
Brand's features:
- Adherence to the world's fashion tendencies
- Affordable price
- Qualitative materials and tailoring
DeVita spring-summer '18 collection
DeVita, a young womenswear brand, presents a new bright collection. It maintains season fashion trends – luxurious velvet, casual style and sparkling decorations. Basic colours are khaki, deep wine, soft pink, grey, fashionable blue and practical black. The collection is divided into 2 parts – Fashion Line and DeVita Sport. Fashion Line is fashionable apparel for work and going out events. DeVita Sport is clothes for walking and relaxation. The designers offer their customers to discover casual style again. The main principle of the style is absence of strict rules. This is a breath of freedom, individuality and elegant negligence. Simple colours, smart cutting, a feeling of lightness and comfort are 3 basic points which inspired the designers to create the new collection.
Contacts
Sales
devitabel@mail.ru
Press
devitabel@mail.ru