NELVA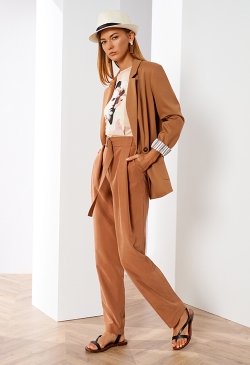 NELVA
The new collection of Nelva brand AW 18/19
"Modern heritage" is fashion throughout years that reflects current mood.
Cinema as well as art inspired the designers to create future autumn-winter collection. Cinematograph is a place where the future meets the past, the borders of reality expand, and it is happening here and now.
Several ideas interweave each other and they all have their own story.
Business collection is a story of woman as a confident and strong person. Contradiction of femininity and masculinity is the main theme of the looks. The power of colour – white and black, exciting deep shades of red and blue, calm grey and ocher paint the collection and fill it with emotions.
Casual theme tells a story about freedom of self-expression, destroying boundaries and rules. A mix of styles and textures help discover a spirit of modernity where each person is a small galaxy with its own rules.
Evening collection is a story called "Forest in Paradise". This theme intrigues with its inscrutability. Looks with a little secret draw attention. The subject of the collection is supported by the variety of textures – charming chiffon, gentle lace and luxurious velvet. Glamourous, sophisticated and charismatic garments are the best choice for a special night
Contacts
Press
Varenik@nelva.by