Tanya Arzhanova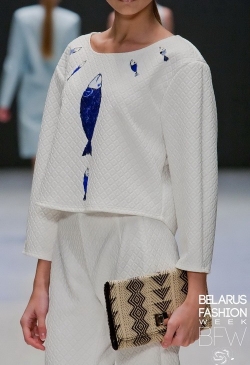 Tanya Arzhanova
Belorussian fashion designer Tanya Arzhanova has been working in area of creating modern clothes with the use of the folk-costume traditional cut and elements of the historical cut in different countries since 2009. Tanya Arzhanova has no straight positioning as she likes to be on a journey, on a constant search for a perfect designer's line. Wonderful beauties of nature, art and a woman of grace are sources of inspiration for the master. Clothes designed by T.Arzhanova can be seen as a lightened variant of stage costumes and as catwalk clothes that feels great in the wardrobe of a city woman, who identifies herself as a modern admirer of art and beauties of nature. 'Favourite colours and fabrics for me are those, by means of which I can realize an idea and image in the concrete collection, I have no favourites'. T.Arzhanova shows preference to sets of a blouse and a skirt/ trousers, a long suit coat and a dress. In the ensembles the designer perfectly combines symmetry with asymmetry in the line of shoulders, and complex pleats and draperies, which make soft volume that T.Arzhanova loves so much, in the waist and thigh area.
For ss 2015/16 collection Tanya Arzhanova immersed herself in marine life. Designer was inspired by little fish. A blue fish like a blue bird is a symbol of good luck!
Tanya Arzhanova has designed a print of blue fish using acryl paints on canvas. All appliqués are handmade.
Removable, fixed with pins, 'fish' let both a romantic girl and a girl with a classic clothing personality to feel confident. In ss 2015/16 collection designer proposes natural fabrics – flax, viscose, cotton, poplin. Sweatshirts, trousers, dresses, coats are made from form-fitting, stable neoprene. You can find lots of summer coats, mid calf dresses, pleated skirts, peg leg trousers, long and short pant overalls, straight-line dresses, sweatshirts, crop tops with skirts in a new collection.
Clean tailoring prevails in a signature style that sees 'set-in' sewing technique, English armhole and asymmetrical shapes. Colors and textures of fabrics remind of sea, sand and waves. Blue, white, cyaneous, sandy have become a palette for the collection.
You also can see a closer look at the accessories of the season including rubber slippers adorned with fish and straw clutch purses.