Youri Kot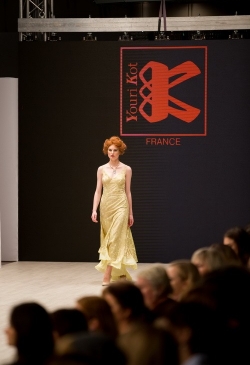 Youri Kot
How begins the work on a new collection ? Of course with the inspiration first ! But the main purpose has ever been for YOURI KOT, the woman's beauty. Elegance, luxury and comfort are always the most important criterions and they are the rules of all the designer' collections.
On November 2016 the 3rd, will be showned the new YOURI KOT collection during the Minsk FASHION WEEK . This collection " Spring-Summer 2017" has been prepared between France where he lives already since 28 years and Minsk where he just opened a show- room.
The collection:
This collection has been thought mostly for active women who work and succeed, and who look after aesthetic, comfortable and individualized dressing. During the conception of his collection, YOURI KOT has visited many tissue factories to choose high quality tissue and materials. The creation process is open and not rigid, step by step the mix of colours with different styles of tissue and materials find their harmony for the different creations. There are a large choice of clothes for all moments of life and most sizes are available or can be ordered in his SHOW-ROOM in Minsk. The mix of tissues is surprising first, then you will be seduced by the refinement and the originality it adds to the modern woman figure….
One of the favourite YOURI KOT' creations "the smoking" will be presented with suits
70-80 ties style, and elegant evening dresses. Specific cuts show the woman figure to advantage, and the good quality of the realisation has been done with élégant details. Good quality tissues and splendid laces, large choice of colours for feminine dressing are what you will find in YOURI KOT'collection.