DAVIDOVA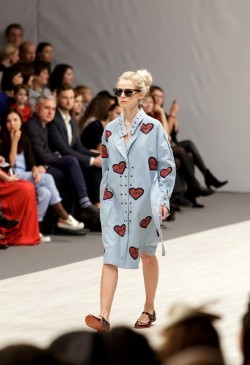 DAVIDOVA
How often do we choose something depending not on rational reasons, but only depending on the mood? Constantly! Clothes, shoes, music, books, a route to work, the company for the evening ...
Clothing from the new collection DAVIDOVA sets the mood to its owner by itself! In it was found the place of philosophy, and subtle irony, and unrestrained fun. The experiments with the author's prints, inherent to the brand, this time were expressed in mischievous drawings that outplay the love of selfie. After all, what is Selfie, how not to try to stop the moment, to catch the mood and keep it in memory? With our emotions, music is closely connected, so that prints with lyrics appeared in the collection is not accidental. These drawings are similar to those that are so often almost unconsciously drawn by many of us, for example, by talking on the phone, waiting for someone to ponder over the solution ...
As always, the designer does not stop at one thing and offers the viewer the choice of: hand-written authoring, a witty print or an interesting detail in an unexpected place, a classic (but always relevant!) Combination of black and white or expressive beige, simple style or experiment with cut. All these elements are folded into an intricate mosaic that surprises and conquers even on the podium, but in life it gives comfort and mood - of course, only good!
The footwear is made at the Shvlyar Shoe Enterprise (according to the author's sketches, hand-painted)