Candy Lady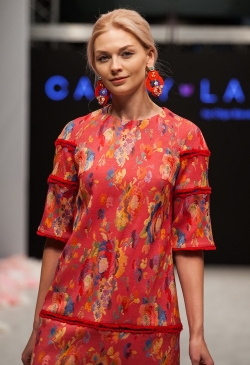 Schedule
19 октября в 18.00
Candy Lady
Collection F/W 2017-2018 of the brand Сandy Lady is called "Pure Harmony". This collection is inspired by internal harmony, calmness, unity with nature. The collection is permeated by the air, sun and warmth.
The true harmony means being a single with the world, like yin and yang. The collection "Pure Harmony" aims to transfer this feeling of harmony and self-confidence. The clothing was always an additional element for self-expression.
In the new season "Candy Lady" team decided to make an "adaptive" collection for the production season, which will be in may.
"We decided to expand the submission of the happy woman's wardrobe. That's why the collection will include only feminine models, which embodies tenderness, sensitivity and feminity. Every woman has those qualities. Also new products for us will be added to the collection, such as sportive costume. Contemporary style is very dynamic and fast, sometimes we need to swap heels for trainers, in order to hit all",- the owner of the brand Olga Barabanshchikova commented.
Details: voluminous strips in tiny details (sleeve), "packet" silhouette, accent on shoulders, organza application.
Colours: Deap blue, flaming orange, yellow, white, beige, milk, blue, flower print.
Textile: cotton, silk, silky organza, silky lace, viscose, wool, cashmere, сrepe, fatin.