APTI EZIEV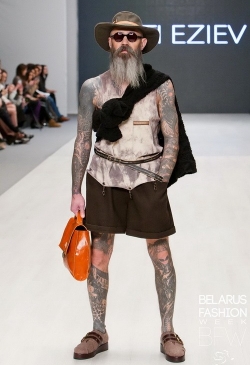 APTI EZIEV
APTI EZIEV SS 2015 сollection is called "For the first time".
Can we remember how we opened the eyes or pronounced our first word for the first time..?
It's possible,but these feelings can't be repeated or felt out again. While there are the things which we can do or hear or feel for the first time we are really happy.
We live some part of our story as a new one.
And they can't be repeated and for the search of such stories we send ourselves from day to day.
This collection is dedicated to the things which happen secretly,alone,together in our lives for the first time. For the first time is something new. This is always an onward progress and a desire to know something more.
A brand collaboration of APTI EZIEV and Studio Sutoria will be presented for the first time.
Inspired by a new collection "For the first time" ,designers APTI EZIEV SS 2015 Sutoria developed and produced shoes collection ,which passes mood and images in APTI EZIEV creativity. Interesting decisions in the creation of shoe models and also selections of materials are represented by Studio Sutoria in Belarus Fashion Week in brand collection APTI EZIEV "For the first time".
The fabrics to the collection are presented by textile company " Sukno". It's the biggest producer of special production of high-qualified woolen and half woolen tissues in the Republic of Belarus.